THE WRENCH ADORED THE JUNKIE'S CALVES. A tragedy launched by innocence and good intentions. He had heard about her calves, about her, but still. They were magnificent. The wrench had never seen such noble calves.

"You must be the triathlete," the wrench said.

Men had always liked her. Good guys, not-so-good guys. Some no-question-about-it awful guys. She had never been so great at telling them apart. Still, she tried. This guy? Soft eyes. Wolfish smile. A deep voice that made something in her chest hurt. Shit.

"You must be Dominic," she said.

Women had always liked him. Nearly every one of the wrench's girlfriends (he was seldom without one) had blossomed into a fiancée not too long before she shriveled into an ex. A former bodybuilder, former break dancer, and soon-to-be former bartender who, as a child, had dreamed of becoming a hairdresser, his most consuming passions now were raising pit bulls ("If you've got a really game pit bull, there are only three ways you're going to get it to let go of another dog. One, you're going to shoot it. . .") and dreaming of a comeback in a nearly forgotten sport.

Chronically restless, reckless, a once and future heavy drinker, a recovering crackhead, the wrench calmed himself by watching Sylvester Stallone movies and the filmic Batman oeuvre, particularly "when he's old and he's out of his prime. He's slower. He isn't capable of what he used to be." The wrench was 34 years old and he lived with his mother.

The junkie had left high school early, dropped out of college, been hospitalized, released, hospitalized again, arrested twice, lasted at a corporate job for seven years where she never felt like she quite fit in. The Fuck Off tattoo on her right ankle didn't help. To take her mind off past mistakes and worries about the future, and to avoid another trip to the hospital—to calm herself—she had recently taken up endurance sports. She was estranged from her wealthy father, caring for two large Dobermans, wondering what she was going to do with her life, and dating four guys a week, not loving any of them. She was 37 years old and had sunk her life savings into a brick, one-story two-bedroom house for herself and her dogs. She paid $64,000. It squatted at the end of a cul-de-sac in a sketchy neighborhood that she was betting would get better. Soon the house would be worth $19,000.

After he met the junkie, the wrench called his best friend. "I just met the female version of myself," he said.

"Well, that's scary," his friend replied.

While he was lifting her bike onto the rack on top of her car, a friend of the junkie's telephoned.

"What are you doing?" the friend asked.

"Watching this hot guy put my bike on my car rack," she said.

"Oh, god," the friend replied.

It was August 21, 2007, and Judi Rothenberg and Dominic LoPresti were both too old and too damaged to believe that love conquered all. Each had known love, and it had brought them debt, dead friends, hungry dogs, addiction, dreams that seemed to curdle and recede every day. Might this time be different? Probably not. The best predictor of the future, as no shortage of lip-pursing therapists, exfoliated authors, and grouchy relationship coaches murmur and scold, is the past. And these two had some pretty gnarly pasts. Their story set to music would be a melancholy hymn, played in a decidedly minor key. The wrench and the junkie were doomed.

THE JUNKIE
This is what loss looks like: a woman sitting in a window frame. Long platinum hair with black roots. A black T-shirt, sleeves cut off, with a band's name that is difficult to make out. Black stretch jeans. In her lap, in her hands, held tenderly, as one might cradle a baby, a 40-ounce bottle of beer. Near her right shoulder, a skull impaled by a knife, and on her forearm a slithering snake thrusting its forked tongue.

Wide eyes, lifted brows, and a half frown that says, "Get away!" and "Help me." She is 20 and has been in San Francisco for three years. It's 1990 and a photographer has asked to snap her picture. He is working on a book about street kids.

How does a nice Jewish girl from the Cincinnati suburbs end up in a book called Raised by Wolves? Why would a teenager leave school, leave her life, and spend her days shooting heroin? Why does any kid leave comfort, in search of peace?

Audrey Martin (then Rothenberg) was 33 when Judi was born, with a 10-year-old son who would be diagnosed with schizophrenia, and two daughters, eight and five.

Judi's father, a wealthy real estate executive, left the family when Judi was one, remarried, moved into a house of vast lawns and dignified driveways. Audrey and her kids stayed where they were, in an area that at its peak was the worst part of a nice neighborhood but that now seemed to decay by the week.

Audrey took a typist job at the University of Cincinnati. When she left for work, the baby stayed at home with sitters, or was dropped off at a daycare center, or if it wasn't a school day and Audrey had to work, handed to her big sisters. Judi would have missed her mom—she can't remember—but she doesn't blame her. "My mom busted her ass to take care of us. He screwed my mom."

When she got a little older, she would see her dad sometimes, at the Jewish Community Center swimming pool, but he was always with his new wife and their new son, just a year younger than Judi, and she didn't know what to say, what to do, and it was weird. But she didn't complain. She studied ballet, and her teachers whacked her legs, told her she was too fat. She didn't complain. She remembers "a great childhood. It wasn't bad. I had everything I wanted and more." She didn't complain about anything. But she worried. About her mother. Her father. Her ballet teacher. Homework. Every day on the way to school, she threw up into a plastic bag she carried with her for just that purpose.

She grew from an anxious, puking 12-year-old into a sulky ballerina at the Cincinnati School for the Creative and Performing Arts, a teenager who snuck out of the house, and who drank. A bunch of her friends—"scummy gutter punks"—were headed to San Francisco. Why not?

Her first day, she crouched over a table at a McDonald's at the top of Haight Street, snorting crystal meth through a dollar bill. It was her first time. After that, there wasn't so much to worry about. She didn't need to eat. She didn't need to sleep. She could walk around the city for hours and hours and it was great. Then she met a guy and that was great too. They hitchhiked to New York, camped out in the Connecticut woods, cadged meals, snorted cocaine, and when it got cold, she returned to Cincinnati, got an apartment, got a bicycle, got a job at Planned Parenthood, and courtesy of the free tuition possible from her mother's job, signed up for college courses at the University of Cincinnati. Six months later, she was back in San Francisco. She was 18.

She hated heroin at first. Then she liked it. Then she needed it.

She worked as a bicycle messenger, gathered with her colleagues every lunch hour at a deli on Howard and Fourth, where the owner gave them sandwiches on credit, ran tabs, and after he took his cut on payday, cashed their checks. Often Judi didn't eat, but pedaled three miles to her dealer's apartment on Valencia and 14th, shot up, then floated out the door and onto her mountain bike with the handlebar chopped so she could slide and swerve between cars and buses. Work was painless. Life was painless. No worries.

There were various boyfriends, some good, none great, some terrible. She doesn't blame the boyfriends. "All the relationships I had back then were shitty. We treated each other like shit. 'What was gonna benefit me from hanging out with you?' That's all we worried about."

Audrey spent a lot of time those years wondering if she'd get a call from a hospital. In 1993 (or '94, Audrey can't remember), she got it. Ten o'clock on a winter Friday morning. Her daughter was in a coma, and Audrey had better hurry. Audrey was at the airport by 1:30, shoving her way through people and onto a plane that waited for her because the flight attendants had been told the situation.

"Is she dead?" Audrey asked.


He had always been a hard worker. But he wasn't saving any money. He definitely wasn't getting anywhere with what he had thought would be his livelihood and his passion, BMX freestyle. He had devoted much of his childhood and adolescence to making his body and bicycle move in ways that demanded strength and balance and agility and stillness. "Like ballet on a bicycle," he says. "Like break dancing on a bicycle." But just when he was about to break through—he was a semi-pro getting paid to ride places, receiving free product—BMX riders discovered big-air jumping. No one paid a lot of attention to ballet on bicycles after that.

He took his clothes, his flooring tools, his bicycle tools, and Bruno. Man and dog moved in with Dominic's mother, Peggy Sinclair. She was disappointed, but not entirely surprised.

He fell in love with BMX racing when he was 10, then saw his first freestyle show, and never wanted to race again. At 15, he was ranked one of the best freestylers in the country. He dropped out of high school his senior year. When he was 18, his parents divorced. When he was 19, he moved to his own place. He managed a Subway sandwich store. He wrenched. He learned to install flooring. Mostly, though, he practiced pirouettes, held handstands, spun and danced with his bicycle in empty parking lots.

He cut back, then started again, cut back, then started again. "I realized I couldn't stop. I went from, 'I love the nightlife,' to 'Oh, my God, I'm a flipping drug addict.' I turned 30 and it was like, 'Man, I'm going to die.'"

When Peggy saw her son, prone and unmoving in the backyard, she called Dominic's father, Tom LoPresti. He arrived as she was getting ready to call the hospital, but he told her to stop. He had worked in pharmaceuticals and he knew how doctors and nurses in emergency rooms often felt about heavy drinkers and drug users. "They might let him die," he said. Instead, he got the hose and sprayed Dominic til his eyes fluttered, then walked him around and fed him ipecac syrup and then Pedialyte, and for nine hours his son took his medicine and passed out and woke up and vomited and repeated the cycle until Tom and Peggy knew he would survive. At least for the day.


She enrolled in Cincinnati's Tri-State Travel School, learned "how to be around other people and pretend like I was a normal person," was hired to arrange travel for executives at a large corporation. It was steady, and she saved money, and once every six weeks for the next four years she woke early, drove 45 minutes to Dayton where a doctor removed a spider, a spiderweb, a skull and crossbones, a skull on a stand, an eyeball, and the Fuck Off tattoo. Then she drove to work.
Maybe exercise would help. She enrolled in step classes at Bally Total Fitness and "it took about seven years for anyone to speak to me." She ran two laps around a high school track. Two became four and four became eight and after a while, four became Cincinnati's Flying Pig marathon in 2007.
She entered another Olympic-distance triathlon in July. This time she wore just a swimsuit and used a road bike. She finished last again, but an hour faster than her first time.
She wasn't puking into a plastic bag every day, or sticking needles into her arms, but she wanted more. She wanted to feel better.
THE WRENCH: SEARCHING
His days as a reigning prince were over. He attended recovery meetings and listened to people jabber about slow and steady and easy does it and a day at a time, but Dominic had never been a slow and steady easy does it one day at a time kind of guy. He wanted to feel better now.
"I was like the Forgotten Samurai," he says.
Dom and the bike shop owners hit it off. He started hanging out at the shop, talking about BMX, musing about his lost tribe, a lost era. Sometimes while they worked, he would lend a hand. "And they're like, 'Oh, you can wrench?' I'm like, 'I'll build you anything.'"
He got involved with some women, nothing serious. He stopped recovery meetings. He was sober, so what was the point? The husband-and-wife bike-shop owners worried about him. The wife, whose name was Wanda, told him about this woman she knew, an athlete. Wanda told Dom that the athlete was coming by the store, and that he was going to teach her to use clip-less pedals. Oh, yeah, and Dom wouldn't believe her calves.
THE WRENCH AND THE JUNKIE: STILL SEARCHING
"I used to be a crackhead," the wrench said to the woman with the calves.
A parking lot. Tuesday afternoon on a late August, Ohio afternoon.
"Neither do I," Dominic said.
"Me too!" Dominic said.
He called her two days later and wished her luck in the tri and when she asked what he was up to, he said he was planning to go for a 35-mile ride on Monday, and she said she wanted to go too. He reminded her that she was competing in an Olympic-distance triathlon the day before, and she would probably want—and need—to rest.
Judi told Dominic what she wanted and would need. Maybe she cursed a little. That's when it occurred to Dominic, who had bossed around most of his many fiancees-turned-exes, that he was not going to spend a lot of time bossing around the woman with the calves.
In August, Dom (everyone calls him Dom, except Judi, who calls him Dominic) moved in with Judi. A few months later, after Bruno had learned to coexist with Ari and Lucy, he moved in, too.
Dom cooked, Judi ran the dogs. They both stayed away from recovery meetings—Judi because, "I was addicted to races." She was doing criteriums by then. "I thought this was how I could avoid doing AA. I could just go out and train." Dom stayed away because he was Dom.
On September 23, 2010, on the second day of the Interbike trade show in Las Vegas, they gathered a few other cyclists and friends and drove to the Fast Lane chapel, where they were married.
Judi was taking the garbage out in early June 2012, when her mother called. Judi's father was dead. Audrey had told Judi days before that he was in the hospital, but Judi had been busy, and tired, and a little grouchy, and besides, she'd never been that close to him, there had never been much happiness between them. He'd been hospitalized before and survived. And her mother had always been dramatic.
A month later, Audrey called again. Judi's father had left some money for her. A miniscule fraction of his estate—much, much, much less than he left to his child by his second wife, not an amount Judi cares to discuss.
Judi hung up the phone, and she looked at Dominic and told him the news.
"And he goes, 'We're buying a house, I'm getting a new car!'"
One image slides onto the computer screen and stays. The woman with a skull on her shoulder, platinum hair, holding a 40-ounce bottle like it's the most precious thing in the world, like it might save her. Judi doesn't say anything.
Judi and Dom named their store Spun because when you're on a mountain bike and you're in trouble on a trail, you are "spun out," and because when tweakers take too much crystal meth, they become "spun." And, Judi says, "spun rhymes with fun and that's our thing. We're here and we're keeping the fun in cycling. You ride it, we'll dig it, that's our motto."
They knew that many of the merchants carried guns, and 18 months after they opened, a man was shot and killed in the middle of the street, just a few doors down. His daughter had been one of their regular customers, "always mad, just a little butch," Judi remembers. "We started calling her The Girl Who Wouldn't Smile. And that was before the shooting."
Bicycle commuters without cars who need repairs get bumped to the front of the line. The work is done immediately, usually the same day, even if it involves Dom working late, which it usually does, "because that's how they get to work every day." Everyone else comes next. Spun doesn't specialize in high-end merchandise. You can't find a bike for more than $1,000 there. But you can find a lot of other things. "I give them options," Dom says. "I tell them, 'If you spend this money, this money, or this money, here's what you get, here's why you get it, and here's what makes things better than other things.' I spell things out for them.
The market seems to have gotten the message. The BMXers came, naturally. The young ones because word got out about the free wrenching, and because every BMXer in Cincinnati worth his grind wax knew or had heard of the Forgotten Samurai. Many had watched him shred (he still had it) at Delhi Park, a place Judi considered slightly sketchy, or indoors at Ollie's Skatepark.
"That one there," Judi said. "That 40-year-old bald guy. That's my boy."
They sell BMX bicycles and affordable commuter models and mountain bikes, and the rare custom job, like one Dom built for a doctor, "a murdered-out flat black with all-anodized red cabling. It weighed sub 17. Hand-laced Belgian wheels I did for him, red spoke nipples, black rims. A beautiful, beautiful bike. Worth about five grand. I cut him a deal, about four grand. I still made my money, he was very freaking happy." (That's how Dom speaks, in paragraphs filled with action, adjectives, and great enthusiasm.)
In 2014, the National Bicycle Dealers Association named Judi and Dom's business one of the 297 best bike shops in the United States, out of 4,000 independent shops in the country.
It's January, only midafternoon and already almost twilight. The couple is in the shop, on the bench opposite the 64-inch plasma screen, holding hands. The wrench and the junkie are too old and too damaged to believe that love conquers all, or even that it conquers most. Judi's house, which is now their house, still hasn't regained even a third of its value. The BMX ramp that Dom built takes up the entire garage. Dom needs to cut down on caffeine, not only because he's plenty jacked up without it, but because drug use has left him with some kidney issues. (The doctors also told him to stop drinking Monster Energy and Red Bull.) There's still too much crime in the neighborhood. Lola the pit attacked another dog earlier this year and Dom and Judi held Lola as she was put down. Dom stayed up all night. Judi stayed up too. She was worried he might drink.
They know that getting high will only make things worse. Staying healthy helps, but good intentions aren't enough to make everything right. They were never enough.
A wintry Wednesday afternoon. Dom and Judi holding hands on the bench, murmuring things to each other, and every so often Dom glances at the kid on the plasma screen catching air the Forgotten Samurai never caught, never will catch, and Dom looks okay with that. Judi will telephone her mom tomorrow morning, as she does most mornings. Dom will work on bikes, a few for free. Judi will turn 45 on July 30, and six days later, Dom will turn 42. They'll celebrate with their families. Next week, Dom will hang out at Delhi Park where he'll tell kids to always wear helmets, to not do stupid things like he did. He'll call each one of the boys "little man." It's quiet at Spun this day, which is rare. If you're the type of person who inclines toward anxiety, who tends toward rumination and angst, who in the past has done terrible, awful things to yourself just to find a little peace, but can't do those things anymore, then this would be a good time to ruminate. To engage in silent battle with phantom demons. But there are dogs to feed, numbers to crunch. There is inventory to order. There are bikes and broken lives to mend. Demons will have to wait.



Okay apartments turned to crappy apartments turned to crappier apartments turned to beds in homeless shelters, then when she didn't check in early enough, to chairs in homeless shelters, then to sheets of cardboard on the street.

On one of Judi's periodic trips to visit her mother, Audrey took her to an addiction specialist at the University of Cincinnati, who asked to see Judi's arms, and asked how she felt. "Get off me!" Judi screamed. On another visit, she showed up at Audrey's house dressed in the only clothes she owned—an Abercrombie sweatshirt, black sweatpants, and a pair of gym shoes from Payless—and after a meal and a shower, headed downtown to score some drugs. She was arrested, thrown in jail, released after vowing to show up in court. Instead, she headed for New York the next day with a friend who had a van, but no license plates. Cops found black tar heroin already mixed up in syringes. At sentencing they weighed not just the drugs, but the syringes as well. Judi thought that was unfair. It still pisses her off a little.

At the hospital, nurses told Audrey that no, she couldn't see her daughter.

THE WRENCHHe lived with the woman he loved and his 50-pound pit bull, Bruno, in a third-floor apartment with good light and slanted ceilings. He made good money as a bartender at a swank restaurant, installed flooring by day, wrenched here and there for extra cash, dreamed of opening a bicycle shop, and of making a triumphant comeback at the age of 28 in the sport where he'd once been a reigning, charismatic prince. Every night, and every morning, he could feel those dreams, and his life, slipping away.

He had planned to be famous, to do what he loved. He was a flabby bartender who installed flooring. What had seemed like the good life was revealing itself to be pathetic. He wanted more. But he didn't know how to get it. He had tried to cut down the drinking, with limited success. To calm himself, to help forget the dreams that he was starting to realize were stillborn, he snorted cocaine. Then he started smoking crack every morning, every lunch hour. His girlfriend wondered why he was so distant at night. When he was 29, she told him he had to leave.

He had been such an odd child. Other kids pleaded with their parents to buy them polo shirts and penny loafers. Dominic dyed his hair blue. Other children daydreamed. Dominic chattered. Other children read comics. Dominic crocheted. Others dreamed of being firemen and doctors. Dominic thought hairdressing sounded interesting. Other children came home with grass stains and breathless tales of home runs and leaping catches. Dominic showed up for dinner soaked in blood, with head wounds and torn clothes. When he was seven, when the LoPrestis were living in Cambridge, Ohio, he nearly bit his tongue in half. The wound was so deep that the doctors at the hospital stitched it. Doctors almost never stitch tongues. "The only good thing about that," Peggy says, "is that Dominic stopped talking for awhile."

The X Games phased freestyling out. Years spent on a career that would never be. He was drinking more, and more. More cocaine. Then jail. "Sheer stupidity, for being violent, for assault charges."

He tried to manage. To limit himself. After he left his bartending shift one night, on his way to his mother's house, he decided he wanted a drink. He deserved a drink. Just one drink. He pulled in to a bar. He doesn't remember the rest of the evening.

"They didn't know how to make me better," Dominic says. "I didn't know how to make me better."

THE JUNKIE: SEARCHINGAfter her arrest in 1996, Judi was sent to a drug rehabilitation unit (in lieu of jail) for six months, and then to a halfway house. She attended three 12-step meetings a day, borrowed a bike from her best childhood friend, and on weekends when the residents were let out, she rode to the nearest liquor store and drank til midnight Saturday so she could pass the urine test on Monday. When she was released ("I told them everything they wanted to hear"), she rented an apartment, got a job waiting tables, then went back to heroin and stayed on it for two years. On October 8, 1999, she locked herself in her apartment for seven days. She ate grilled cheese sandwiches brought by her "really shitty boyfriend, God, I hated him, but he helped me." She sweated and trembled and vomited. And that was it. She never used heroin again. "It was just like I couldn't do it anymore. I said, 'I'm done.'"

She was clean, but something was missing. She wasn't supposed to worry about the past or obsess about the future—that's what they told her in the recovery groups—but couldn't she at least feel some peace? Couldn't she find love? Couldn't she find a non-shitty boyfriend? Couldn't she put her undeniable business skills—those had been a surprise, who knew all these years she had an affinity for numbers—to more profitable and enjoyable use than booking trips to Las Vegas for executive vice presidents and putting through their expense reports? (A few days after reviewing a $10,000 report for a luxury cruise, she received a 25 cents an hour raise; that burned.)

She had always excelled at bold moves. It was the details that had tripped her up. She entered an Olympic-distance triathlon. She swam the first leg in a wetsuit designed for scuba diving. It was like wearing clothes. She rode the second leg on a mountain bike she had bought on Craigslist for $60, an old, steel "big hunkin'" hog of a thing the race director had assured her would be just fine. When she stumbled across the finish line after the 10k run, so far behind everyone else that workers were dismantling the stands, she was gasping, sobbing, quivering with fury. She managed to summon the energy to loudly curse the race director, who probably regretted sticking around.

She was going to fewer meetings, spending more time training. She hadn't found love, hadn't found a job where she could utilize her talents. She didn't talk much with her older sisters, who had moved away and had lives of their own. One had a PhD in theoretical accounting, the other had a PhD in statistical mathematics. Her older brother lived with their mother, and it fell to Audrey to help him manage his schizophrenia. Judi hadn't found any kind of happy, peaceful relationship with her father. He was a multimillionaire, a real estate king, while "my mom is on a pension from UC as a secretary."

She decided for her third race, she would use clipless pedals. First, though, she had to learn how to use them. A woman named Wanda who had worked on Judi's road bike told her about a wrench who could help her. He knew bicycles. He used to be a big-shot BMX rider, the old-fashioned kind, the break-dancing kind. He was older now, about Judi's age. Wanda thought they might get along.


No one cared about flatlanders anymore. The moves were too subtle, the movements too small, the discipline—intense, demanding—too difficult for any but the true BMX cognoscenti to appreciate. Everyone wanted to watch skinny kids catching big air. There were exactly two flatlanders in Cincinnati, four in Cleveland, one in Columbus.

He bought a mountain bike, and after three months he was still bloated, not drinking or using, but not feeling much better, either. He might be lost, and fat, and living with his mother, but once a flatlander, always a flatlander. He wheeled one of his BMX bikes to the Walgreens parking lot nearby. Some kids watched him, goggle-eyed, told him he should check out this mom-and-pop bicycle store they knew about, the owners were big into BMX. If he was going to lose weight, though, he needed a road bike. The Forgotten Samurai walked into the store and announced, "Dudes, I need to get a bike. But I don't ride freaking factory bikes. I was like, 'I've got to build something. You've got to let me build it.'"

When he wasn't wrenching or bartending, Dominic rode his new bike. He rode up to 400 miles a week. He lost 50 pounds in two months. So what if he was living at his mother's and he still got that restless, sad, why-can't-I-feel-more-peaceful ache every so often? He worked and he rode and he worked and he rode. "If I wasn't working, I was riding. I would just keep my whole system pounded to where I was too tired to even go out and do something even if I wanted to."






"I used to be a heroin addict," she replied.

"But I don't do it anymore," Judi said.

"I still smoke a little weed here and there," Judi said.

They exchanged high fives. They laughed.

Really? She—who had swam in a scuba wet-suit and pushed her big hunkin' hog of a machine the distance in her first tri, who had puked every day on her way to middle school, who had kicked heroin with a week's worth of grilled cheese sandwiches, she wouldn't be able to handle a leisurely cruise on a road bike? She would need to take it easy? The wrench thought he knew what was best for her?

He didn't call for a week, and by then Judi had decided he was the man she wanted to spend her life with, so she was annoyed. When Dom came to his senses, he introduced her to Bruno and Judi bought Bruno a new collar and took him running and Dom watched and learned that not only was she strong, she was "an awesome dog handler." Judi introduced Dominic and Bruno to her two Dobermans, Ari and Lucy.

They dreamed of maybe one day opening a bike shop. Dom would make it in his image, high energy and down to earth, a haven for BMXers and kids, maybe a big plasma screen that would show kung fu movies for the customers (and Dom) to watch. Judi would use her business skills for something other than expensing $10,000 cruises for other people. They would be partners. But they had only $500 between them. Unless a big sack of money fell from the leaden Ohio sky one day, booking travel and bartending would have to do.

Judi left the corporate world and took a job as a barista. Dom started drinking, and stopped, and started, and stopped, and stayed sober. Bruno died, of cancer, in 2009 and a month later, they got a replacement pit bull, Fausto. Lucy the Doberman died, and they found another pit wandering the streets. They named her Lola. They decided, together, to quit smoking pot.

There was no reason to feel uneasy, or dissatisfied. They had Fausto and Lola and Ari, and their house, and income, and now they had each other. But they wanted more. But what? How? When? Would the ache ever go away?

Judi let go of the garbage bag. She lay down on her back, in her yard, still holding onto her cell phone. She looked at the sky.

Still. A big bag of money from the leaden Ohio sky.

"A fucking dream come true," she said.

"And I said, 'No, we're opening a bike shop.'"

JUDI & DOMJudi stares at a computer screen, at skinny wraiths with wrecked, luminous eyes. One of them, a boy in jeans and a T-shirt appears, then disappears. "He's dead now," Judi says. Another lost child, grinning with rage. "Him, I don't know." A girl. "I think something bad happened with her." And another boy. "He's dead, too."

On the wall opposite Judi, a young man flies over concrete canyons, shoots down rails, catches gaudy, dangerous-looking amounts of air. Dom installed the 64-inch plasma screen when the store opened in February 2013, and when Dom is working, the screen is always on, filled with reigning BMX princes (there aren't a lot of princesses) or kung fu movies.

They knew there was a heroin trade in the neighborhood, Cincinnati's Northside, and crime, but tough neighborhoods didn't scare them and they were learning that one of the things that could fill that nameless emptiness they shared, that could ease that nagging ache, was helping others. The dogs taught them that. Other addicts and drunks taught them that. To calm themselves, they could be useful. "The neighborhood needed a bike shop," Judi says.

Kids often get free repairs at Spun. Customers who buy new bikes get free tune-ups for a year. Dom offers free courses on how to fix a flat and keep bikes clean. Judi runs a Ladies' Night, where she springs for pizza, and any woman who walks through the door gets a slice or three, along with lessons on how to do a basic tune-up. Judi also works with a nonprofit group, Wordplay, to deliver books by bicycle to low-income children around the city for an organization called Ride for Reading.

"I want a blue-collar bike shop, the working man's bike shop. Those people deserve to have one-on-one attention with people that are knowledgeable too. They might not have all the money to buy a $4,000 bike, but it's a market that's screaming to be helped."

At Ollie's, Judi would sit with the mothers. One day, one of the mothers' mothers—a grandmother—asked Judi, "Which one is yours?"

Kids love him. Adults, too. Sometimes it seems that the lonelier they are, the less they fit in, the more people love Dom. A young man with severe ADHD who talks even more than Dom, visits the shop several times a week, asking questions, studying parts, chewing the fat with the Forgotten Samurai. A mentally disabled man in his 30s rides a city bus to visit Dom and Judi twice a month, and his father, who lives out of state, emails Judi when his son needs parts for his bike. An 11-year-old girl visits the shop regularly. Once tough and always angry, now she's just tough. She jokes with Dom. Judi sends her Instagrams, and teases her when she's in the shop. The Girl Who Wouldn't Smile smiles now. Every so often, she giggles.

From its first year to its second, Spun sales jumped 41 percent. "Forty-freaking-one percent," Judi says. (That's how Judi speaks, with precision, economy, and great enthusiasm.)

"It was like, 'Oh, shit, we're legit,'" Judi says.

That was a bad night. There are others.

So they will feed and run the dogs and Judi will do her best to make the tough little girl not so tough and Dom will do favors for kids and commuters and even a few adults and just to make sure that Dom's kindness doesn't kill them both, Judi, when she's in the back office, "I have to come out and say, 'Okay, there's too many discounts here, how much are you charging for this? What's labor going to be on this?'"

The couple that met at Ron and Wanda's never would have worked out. The wrench and the junkie were doomed. But these two holding hands, whispering to each other, that's another matter. Their song is a honeyed ballad. The story of Judi and Dom might have a happy ending.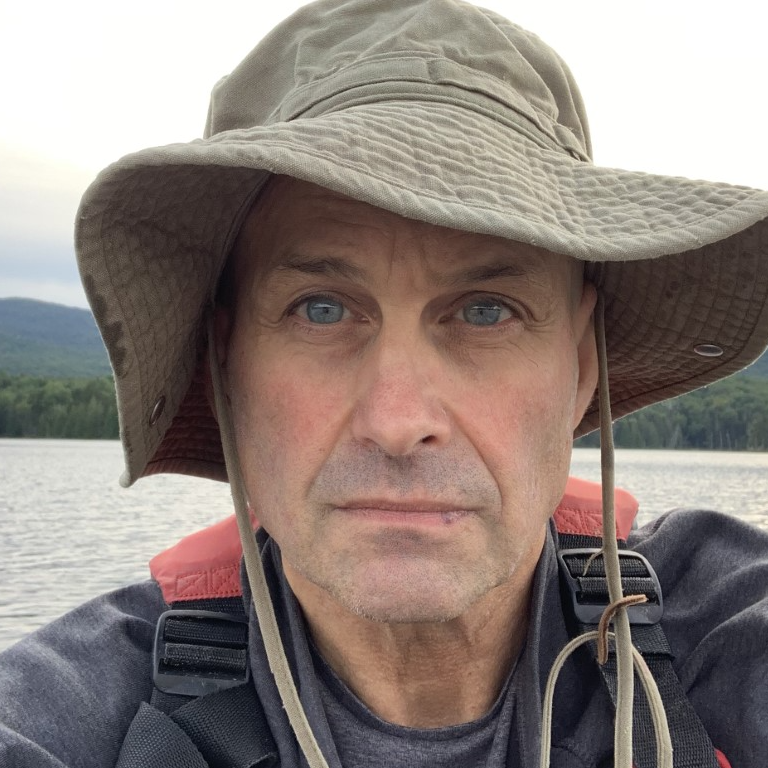 Steve Friedman is a writer based in New York whose work has appeared in The New York Times, the Washington Post, Esquire, GQ, Outside, New York magazine, Bicycling, Runner's World and many other publications.