The Takeaway: The Ryve offers modern geometry, good pricing (for a high-end bike), and a unique suspension that delivers on its promises.
Living Link rear suspension system employs a composite leaf spring in place of a ball-bearing pivot.
Progressive geometry: 67.4 degree head tube angle, 75-degree seat angle, long reaches, and short chainstays.
Price: $4,599 to $7,499 ($7,099 as tested)
Weight: 24.5 lb. (Medium)
---
Spot's latest model in its growing line of Living Link full-suspension bikes is the Ryve. After launching the Living Link design with longer travel platforms, Spot is now rolling out shorter travel models. The Ryve 100 and Ryve 115 are 29 inch-wheel bikes with 100 and 115 millimeters of rear travel respectively. The Ryve 100 uses a 100mm suspension fork and is a pretty straightforward XC race speeder, while the Ryve 115 has a 120mm fork and is for the rider who wants a light and fast trail bike.

While we love a good race bike, we're more excited about the Ryve 115. We're made no secret of our affection for shorter travel trail bikes like the new Trek Top Fuel and Yeti's SB-100.
These bikes are heavily influenced by XC race bikes, but more capable. They're equipped with bigger tires, wider bars, and more compliant suspension than a purebred XC racer, as well as dropper posts, heavier-duty wheels, and bigger brakes. Their geometry is also slightly different, and the result is their handling more relaxed, and their nature more shreddable. They're light and efficient and undoubtedly raceable, but they're more capable and playful—more suited to baggy shorts and waist packs than a skin suit and power meter.
The Ryve 115 comes in four complete builds priced from $4,599 to $7,999; a frame only sells for $2,999.
Living Link Suspension
Spot's Living Link is a unique, and patented, take on the short dual link system. It's similar in appearance to the DW-Link design used by Pivot and Ibis, except Living Link replaces one of the lower link's cartridge bearing pivots with a composite leaf spring plate.
Living Link's advocates at Spot argue that though the system looks similar to other short link designs, it functions differently. The leaf spring's flexion offers an additional tuning element, which allows Spots engineers to do things with the bike's anti-squat/anti rise properties that a rigid link cannot.
This content is imported from youTube. You may be able to find the same content in another format, or you may be able to find more information, at their web site.
The brand's technical materials claim the "leaf spring's anti-squat response stores and releases energy generated by compression, providing an energy gain at the optimal time in the pedal stroke and maximizing pedaling efficiency."

Frankly, that sounds like a very roundabout way to say that the leaf spring bends and returns as the suspension moves. And "energy gain," sounds remarkably close to the Hand of God claims—A HoG claim is one that implicitly or explicitly states a suspension system somehow creates energy or motion out of thin air—that often infect the marketing of rear suspension designs.
Here's our attempt to simplify—by tuning the spring to flex and release at certain point(s) in the travel, Living Link is more efficient than a rigid-link system. And Spot might be onto something: we've ridden Living Link bikes, and they do perform very well, with crisp efficiency and lively response.
Frame Details
The Ryve has all the details you'd expect to find on modern, high-end, carbon full suspension bike. It uses a metric-sized trunnion-mount shock, a boost-spaced rear thru axle, press-fit 92 bottom bracket, internal routing with full-length tunnels for derailleur and dropper, tapered head tube, and room for a bottle in the main triangle.
But Ryve also has a couple unique frame details. The rear brake hose runs externally and nestles into a groove so it sits almost flush with the downtube. Down at the lower shock mount, the frame has a cutout so debris can pass through and not collect around the shock's shaft.
Strike guards under the downtube and on the drive side chain stays protect the frame. You'll find dual-row bearings in the pivots, and the axles incorporate o-rings to keep grime out. Two colors are offered: matte red, and matte black.
Ryve Geometry
The Ryve 115 is offered in four sizes: small, medium, large, and extra-large. You won't be shocked to hear that Spot embraced the current geometry trends. Dropped top tubes create low standovers. Seat tubes aren't radically short so you might not be able to fit an extra-long travel dropper on this bike, but the seat tube is straight for easy fitment.
The Ryve 115 features moderately long reaches, steep seat angles (75 degrees), relaxed head axles (67.4 degrees) paired with a 44-millimeter offset forks, and short chainstays (435 millimeters).
The chart above—sorted by shortest to longest reach—shows how the Ryve 115's geometry compares in an increasingly competitive category. Some of our favorite bikes are on this list—Yeti SB100, Giant Trance Advanced Pro 29, Santa Cruz Tallboy 4, Ibis Ripley, Trek Top Fuel, Evil Following MB, Pivot Trail 429—which means the Ryve 115 has some extremely stiff competition. As the table illustrates, the Ryve 115 occupies the middle of this category's current geometry spectrum.
Ryve 115 Builds
Spot offers four builds for the Ryve 115. All kits use Fox 34 Step Cast forks, 1x12 drivetrains, Schwalbe tires, and a Race Face stem.
There are two top of the line 6-Star builds. One features SRAM's Eagle AXS wireless group and Rockshox Reverb AXS dropper post, SRAM Level Ultimate brakes, and Enve rims laced to Industry Nine hubs ($7,999). The other 6-Star build—this is the model Spot sent for review—uses Shimano's new XTR 1x12 group, a BikeYoke Revive dropper post and a wheelset built with Enve rims laced to Industry Nine hubs ($7,599).
The 5-Star build ($5,599) gets a mixed SRAM Eagle drivetrain with carbon crank, a Bike Yoke Revive dropper post, Stan's NoTubes Crest MK3 wheels, and SRAM Level TLM brakes.
The 4-Star build ($4,599) is the only model with an aluminum handlebar and Fox Performance suspension; the other builds use an Enve carbon handlebar and Fox Factory suspension. Full build details below.
Shock: Fox Factory Float DPS EVOL
Fork: Fox Factory Float 34 Step-Cast, 120mm
Wheels: Enve M525 rims , Industry Nine Hydra hubs
Derailleur: Shimano XTR
Shifter: Shimano XTR
Crank: Shimano MT900-1, 32t
Cassette: Shimano XTR 10-51t
Brakes: Shimano XTR XC, 180/160mm rotors
Tires: Schwalbe Nobby Nic 2.35", Racing Ralph 2.25"
Seatpost: BikeYoke Revive
Saddle: WTB Silverado
Bar: Enve M6
Stem: Race Face Turbine

Ride Impressions
I rode Spot's 115 on the trails near our Pennsylvania office and in Durango, Colorado. I also gave it to trusted testers to ride and provide feedback as well.

Spot's Living Link rear suspension doesn't feel like any other dual-link system. It feels brighter and livelier—like the back end is moving more quickly.
I stopped several times on my first ride to check that shock's rebound damping was set correctly —it was. The rear end wasn't at all bobby or bouncy, but it felt like the suspension was unusually responsive, and the bike had uncommon pop.
The bicycle industry is legendary for turning small differences and improvements into outlandish claims of game-changing performance. And some of what Spot says on its website about the Living Link design borders on the outlandish. But I gotta give Spot credit—Living Link does feel different and in the right way.
And that right way is its go. Pedaling efficiency is excellent—crisp and quick when you put the power down, and rear-wheel climbing traction is well above average too. Lateral stiffness is excellent, and it's a light bike also, just 24.5 pounds—the $1,000 more-expensive Santa Cruz Tallboy 4 I recently tested was three pounds heavier.
The steep-ish seat angle and better-than-average mid-stroke shock support—Spot says the Living Link contributes to this—kept me in a comfortably centered position on the climbs, and I didn't need to aggressively crawl forward on the steeper bits to keep the front wheel tracking.
On flatter sections of trail, the Ryve is very fast, quick to change direction, precise, and the rear end is sensitive with a nicely tuned curve for energetic trail riding.
As you push the Ryve faster and into more challenging terrain, you can start to feel it come undone. Much of this is due to the parts kit which leans towards XC and is part of the reason the complete bike is so light. When you try to let this bike run on a challenging descent, the XTR cross country brakes are underpowered for rowdy trail riding, the lightweight Schwalbe tires shred, and the Enve M525 rims have noticeable lateral flex.
With different parts, the Ryve 115 will be able to get a bit rowdy. Even so, this is more of a relaxed XC bike than a short travel trail bike. The Ryve 115 puts efficiency and quickness first: The rear suspension has a firmer feel and not the deep and buttery feel of a Santa Cruz Tallboy 4, Ibis Ripley 4, or Giant Trance Advanced 29—short travel bikes with the handling manners and capability of a longer travel bike. The Ryve's 67.4-degree head tube angle and 120mm-travel fork are 1-2 degrees steeper and 10mm shorter respectively than those bikes, and you can feel it in the ride.
The Ryve 115 is more like the new Trek Top Fuel and Yeti's SB100: trail bikes that are almost XC bikes. Light and fast bikes that can nuke uphill PRs, and slice tight trails, but have a touch of a playful and rowdy feel that you can exploit on the descents. If that's the kind of bike you want, the Ryve 115 is currently the class leader.
---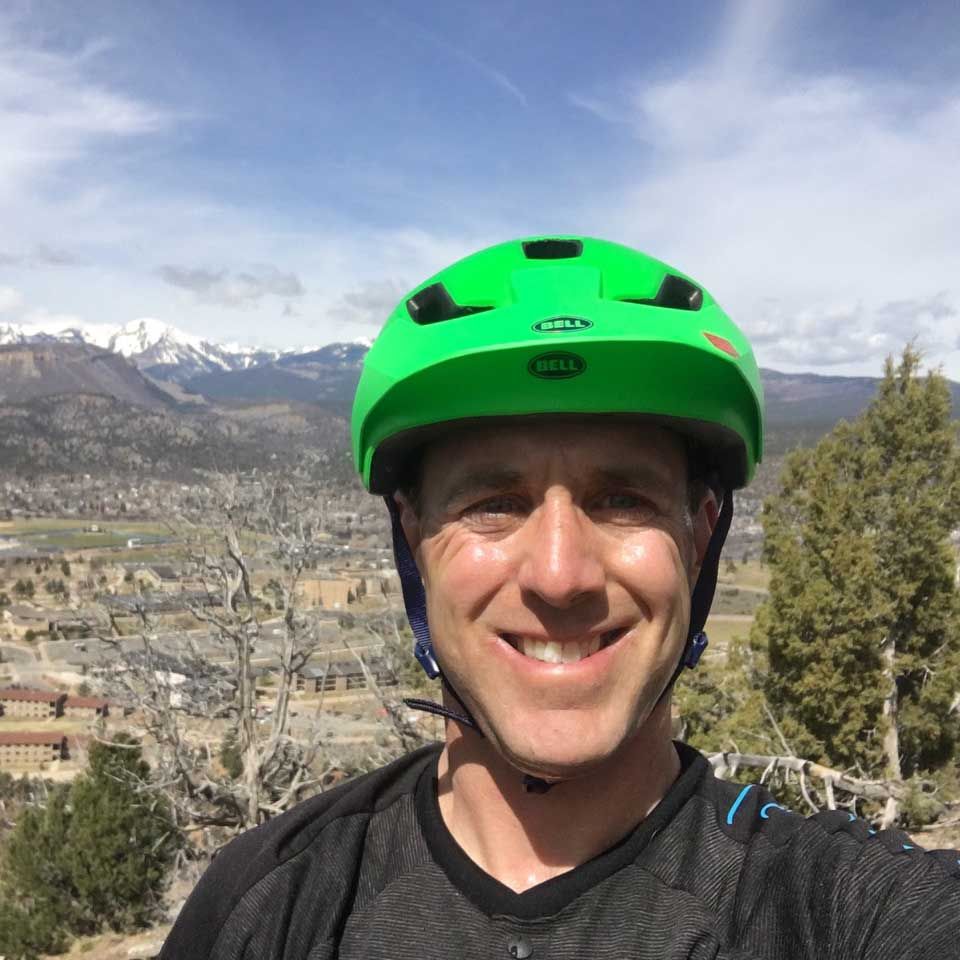 Senior Test Editor, Bicycling
A gear editor for his entire career, Matt's journey to becoming a leading cycling tech journalist started in 1995, and he's been at it ever since; likely riding more cycling equipment than anyone on the planet along the way. Previous to his time with Bicycling, Matt worked in bike shops as a service manager, mechanic, and sales person. Based in Durango, Colorado, he enjoys riding and testing any and all kinds of bikes, so you're just as likely to see him on a road bike dressed in Lycra at a Tuesday night worlds ride as you are to find him dressed in a full face helmet and pads riding a bike park on an enduro bike. He doesn't race often, but he's game for anything; having entered road races, criteriums, trials competitions, dual slalom, downhill races, enduros, stage races, short track, time trials, and gran fondos. Next up on his to-do list: a multi day bikepacking trip, and an e-bike race.