The Takeaway: Motor or no motor, the Fuel EX-e is one of the best mountain bikes on the market right now.
All new EX carbon frame with 140mm rear travel and 150mm fork
Small and light (1850 grams) TQ HPR50 with maximum 50Nm torque
360Wh in-frame battery. Optional piggyback 160Wh range extender
2-5 hour claimed ride range from in-frame battery
Six models priced $6,500 to $14,000
Weight: 40.9 lbs. (medium, 9.9 XX1 AXS)

Price: $14,000 (9.9 XX1 AXS)
---
Trek kicks off a big week of mountain bike launches here at Bicycling with the introduction of their latest e-mountain bike: The Fuel EX-e. While the usual e-bike story is about more power, battery, and range, the EX-e falls into the intriguing e-light category where the story is less.
The EX-e is lighter, a lot lighter—10 or so pounds lighter—than a full-power e-bike because it uses a less powerful motor requiring a smaller battery. That makes it appealing to riders who want an e-bike but also want the feel and handling of an unpowered e-bike. It should also interest lighter and less powerful riders put off by riding a 50-pound eMTB. As I found out, being less powerful doesn't mean less fun. The EX-e proves that the old Less Is More axiom works for e-bikes too.
The Fuel EX-e arrives in shops worldwide, in limited numbers, today.
---
Trek Fuel EX-e Ride Impressions
Most of the e-bikes I ride are motorized versions of a brand's existing unpowered frame platform, which there's a better-than-good chance I've already ridden. However, with this new Fuel EX-e, Trek flipped the script on me because the powered version came first.
With the Fuel EX-e, Trek debuts an all-new frame platform which I've never ridden before which seems likely to become (in an unpowered version) the next version of Trek's Fuel EX trail bike. Plus, the EX-e uses the all-new TQ motor (which is new to me) and the 2023 RockShox Lyrik fork and Super Deluxe Ultimate shock (which I have spent minimal time on).
My test bike was the most expensive model: The $14,000 9.9 XX1 AXS in Baja Yellow. The parts were, as you would hope for a bike this expensive, flawless. I did notice the RockShox Reverb AXS dropper on this post seemed smoother and less sticky than other examples of this post I've tried, perhaps due to some running changes on the assembly line. The Bontrager SE5 Team Issue tires are the best Bontrager trail tires I've ever ridden, and I feel like the company has a rubber compound that lets them compete with the best on the market. Also impressive were the 2023 RockShox parts which are a step forward in smoothness for the brand, and operate silently.
One thing not present on my bike was Trek's AirWiz suspension pressure sensors on the fork and shock, or the Quarq TyreWiz tire pressure sensors on the wheels. These are a stock feature on the model I tested, but Trek's PR team decided to remove them from my review bike after the issues I had with the sensors on the Rail test bike in October. Riders who order the new EX-e through Trek's Project One customization program have the option to remove the sensors.
While much of this bike is new to me, the Fuel EX-e is such a harmonious package that I got comfortable with it very quickly, and it wasn't much longer before I was in love with this bike. In fact, I'm going to declare that this is one of the best mountain bikes—powered or unpowered—I've recently ridden. I can't wait until the unpowered version of this frame lands because I think it will kick ass.
Everything makes this bike good, but I'll start with the frame. The chassis has a modern fit and balanced handling that lets the rider climb comfortably and let it run on the descents, yet it's still agreeable on mid-speed and flatter trails. There's nothing particularly unique or different about the EX-e's geometry numbers, which I think is the point: It finds an equilibrium that works well on many kinds of climbs and flavors of descent without neglecting that some trails are flatter. If anything, it's snappier and livelier—things I don't think I've ever said about an e-mountain bike—than the average 140/150mm bike, and enough that I legitimately forgot that I was on an e-bike at times.

I sometimes forget I was on an e-bike because the motor is so quiet and well-mannered. I couldn't hear it over my breathing on climbs, and it's so smooth that there are almost no vibrations or buzzing to feel in the frame. Plus, it is entirely free of clunking and lash.
It's the most natural feeling motor I've yet ridden, by which I mean it doles out the power in an approximately human way. It is also so quick that there's almost no lag between when you start and stop pedaling; the motor power flows in and out. It legitimately feels like you're just having a really great day when you pedal this bike. I felt less surging and pushing from this motor, even in the highest assist mode, than I've experienced from any other e-bike motor system.
The EX-e's motor feels exceptionally well-tuned, and the experience is refined, eclipsing even Specialized's excellent motors. Some of this smoothness likely results from the TQ's lower torque. By keeping the system quiet, the bike tricks the brain a bit—quieter is perceived as smoother. But riding the EX-e was such a pleasant experience that I never missed the extra boost of a "full power" e-bike.

I feel like this e-lite mountain bike might provide a superior experience for many riders, even committed e-bike riders. Yeah, it's not going to hurl you up the climbs the way a full-power e-bike will. Yes, I did wish for more range—if only because riding the EX-e is so damn fun—but there's enough power and range here to offer some substantial assist, yet the bike remains agile and doesn't punish the upper body on the descents. It is an e-bike experience that doesn't overwhelm the mountain bike experience. The experience of transitioning from a mountain bike to a full-power e-bike is pretty extreme and can be jarring.
Full-power e-bikes are a lot: A lot of power and a lot of weight. Many riders adapt and are completely happy with their full-power e-bikes. But if you've tried a full-power e-bike and thought it was a bit much, the EX-e will be a revelation.
Based on Strava, even with the EX-e's assist, I was still slower on the climbs and descents than my town's fastest pro riders. I wasn't even as fast as my best unassisted times from when I was in my best riding shape. But I could ride quicker and with less effort than I can (at my current weight and fitness) compared to an unassisted bike. It lessened—but did not eliminate—the pain and significantly increased the fun in a quiet, sleek, and easy-to-ride package. Which, to me, are the hallmark of an extraordinary bike.
---
Trek Fuel EX-e TQ HPR50 Motor
For the new EX-e motor, Trek turned to a new supplier: TQ Group. Like Bosch, Brose, and Mahale, TQ's e-bike division is a small part of a large and diverse company with extensive knowledge in electronics. Though they may not have the recognition of its competitors, this isn't TQ's first foray into e-bike motors: The Flyon motor used for some Haibike models was a TQ product. But while the Flyon was noteworthy for its massive 120Nm of torque, the HPR50 maxes out at 50Nm (300 watts maximum assist), putting the Fuel EX-e into the growing e-light category of mountain bikes. Other e-light trail bikes include Specialized's Levo SL and Orbea's Rise.
With nearly half the maximum torque, these e-light bikes don't have the sheer thrust of a full-power e-MTB. But less powerful motors are smaller and lighter, and they draw less juice so that the bikes can use smaller and lighter batteries. And that's why this EX-e is easily 10 pounds lighter than a comparable full-power e-bike. For example, the full-power Trek Rail I reviewed last October weighed 51.3lb. This EX-e with a similar build weighs 40.9 pounds.
The HPR50 is a light (1830 grams) and small e-bike motor because of its architecture. The "harmonic pin ring" system allows a concentric profile without belts and with fewer gears, packaging the entire unit into a shell that looks more like an oversized standard bottom bracket than the typical e-bike motor. Rather than explaining the design, the hypnotic animation provided by TQ below illustrates it nicely.
One more stat I want to highlight is TQ's claimed "135mm Q-Factor." While this is true, it's the Q-factor of the motor without cranks which, last I checked, is hard to pedal. With my test bike's e*thirteen e*spec Race Carbon cranks installed, I measured an approximate 195mm Q-Factor, which is quite a bit wider than a Shimano EP8 motor's 177mm.
---
Trek Fuel EX-e TQ HPR50 Motor Noise
According to Trek's launch materials, they spent a lot of time analyzing and quantifying e-bike motor noise. And while I don't consider any of the current mid-drive e-bike motors loud, they all make noticeable—and not particularly pleasant—noise. Trek claims that when measured in an anechoic chamber, their motor's tonality across a range of cadence speeds is four to five times lower than other e-bikes, registering as "barely perceivable."
After many hours of riding the EX-e, I agree that barely perceivable is an apt way to describe the motor's noise. It's so quiet that it barely registers above (and most of the time is masked by) tire noise and breathing. And not only is it hushed, but the noise you can hear is a much lower pitch—almost like a cat's happy purr—than the high-pitched whine of most e-bike motors.
So quiet is the HPR50 motor that I could ride the EX-e in a group without others knowing I was on an e-bike. Unless they got a good look at the bike from the non-drive side or happened to see the discrete handlebar remote (which I tried to cover with my hand as much as possible), they assumed it to be a non-assist bike. To make it even stealthier, I covered the top tube display with electrical tape to hide it, covered the top tube logo with stickers, and rode trails that are closed to e-bikes. Of course, I can't suggest you do the same, but no one I rode by gave me or the bike a second look.
---
Trek Fuel EX-e Battery and Range
The EX-e has a 360 Wh internal battery, which is enough for "two to five hours" of riding, according to Trek. While frustratingly vague, it's accurate as many factors influence battery range. Riding in the "mid" assist mode, I did a 25-mile ride with almost 2500 feet of climbing. The ride took two hours and 40 minutes and finished with under 30 percent battery remaining, so I think the two-to-five hour estimate is accurate.
If you want more range (or less range anxiety), the EX-e offers a couple of options. One is a 160Wh piggyback battery ($660, 900 gram claimed weight) that fits into the bottle cage. You'll lose the ability to put a water bottle on the bike, but it provides 40 percent more range. One clever thing about this range extender is you can charge both it and the bike's in-frame battery through a charge port in the extender. The other option is to buy a second in-frame battery ($750). You can easily remove the in-frame battery from the frame, so hot swaps on the trail are possible if you're willing to carry a spare 1835g battery in your pack.
Claimed charge time for the 360Wh battery is a relatively short two hours, while the 160Wh piggyback charges in an hour.
---
Trek Fuel EX-e Display, Remote, and Apps
The EX-e has a two-inch OLED flush-mounted in the top tube with four data lines and the system's on/off switch. A remaining charge graphic and assist mode indicator always show, and you can scroll through four data screens. The most helpful are the ones that display the remaining battery charge as a percentage and estimated ride time remaining, and remaining range in miles and estimated ride time remaining. The other data screens show rider and bike power and speed. In addition, the TQ system broadcasts information on an ANT+ channel, so you can also see information on compatible GPS cycling computers.
The TQ handlebar remote is very discrete. Use it to select one of three assist modes (Eco, Mid, High), to shut off all assistance, or activate walk mode.
Riders may access further information and settings through the new Trek Central app for iOS and Android. The app can customize all three assist modes. However, assist-system firmware updates must be done by a Trek dealer.
The Central app also offers ride tracking/recording (with automatic export to Strava and Komoot) and navigation with battery charge remaining at the end of the trip. It also has a range cloud that shows how far you can ride if you want to make a round trip and how far you can ride one way with a full charge.
The Central app also provides suspension and tire pressure setup information based on rider weight and recommended suspension damping settings. If your bike has Trek's TireWiz or AirWiz electronic pressure sensors, the app also connects to those devices.
---
Trek Fuel EX-e Frame Details
The EX-e is the debut of Trek's all-new carbon frame platform. Though the e-bike version is the first to launch, I'd bet there's an unassisted version of this same frame coming soon. It is a mid-travel trail frame with 140mm of rear travel and complete models equipped with 150mm forks (it can take up to a 160mm fork). In addition, Trek seems to be heading in a new styling direction with the EX-e, as the frame shapes and graphics seem crisper yet more subtle than previous mountain bikes.
The rear suspension is Trek's familiar ABP (Active Braking Pivot) design. ABP is a single pivot system with a floating brake arm, allowing the nerds to fine-tune the bike's anti-squat (pedaling) and anti-rise (braking) characteristics more than they could by using a more traditional single-pivot design. Trek says the kinematics work with either air or coil shocks and states that all coil shocks from Fox and RockShox are compatible with the EX-e.
All frame sizes fit a 20-ounce water bottle inside the front triangle, and there's a cargo mount under the top tube, too. Hoses and housing run internally (of course), but this frame does not use Trek's Knock Block system to limit bar rotation. It got sacrificed to make room for the in-frame display.
The EX-e's geometry is pretty average for a modern 140/150mm travel trail bike. The highlights are two geometry positions (via a chip in the rocker link yielding a 64.7- or 65.2-degree head angle/76.7- or 77.2-degree effective seat tube angle) and chainstays that measure about 440mm.
While complete bikes come with 29-inch wheels, Trek says the bike is compatible with a 27.5" rear wheel.
Trek recommends using the high geometry position with the smaller-sized wheel fitted. However, it cautions that "the smaller wheel circumference will affect the accuracy of the speed reading and cannot be adjusted."
---
Trek Fuel EX-e Models
There are six EX-e models—starting with the $6,500 Fuel EX-e 9.5 and topping out with the $14,000 EX-e 9.9 XX1 AXS. All use the same carbon frame, TQ motor, and 360Wh battery, but the rest of the build changes accordingly to price. Trek provided complete bike weights for the line, which I've pasted below, and you'll also find build highlights. Full component package details are available on Trek's website.
Notably, the most expensive EX-e is not the lightest bike in the lineup. The $13,000 Shimano XTR build and the $8,700 and $9,200 Shimano XT bikes are lighter weight than the range-topping $14,000 SRAM XX1 AXS-equipped model. Also, the least expensive 9.5 model (remember: same frame, motor, and battery for all models) costs $7,500 less than the 9.9 XX1 AXS build but only weighs 3.3(ish) pounds heavier. To put it another way, the 9.5 is 53.6 percent cheaper than the 9.9 XX1, yet only eight percent heavier.
Personally, the best build in the line is the XT model. It's under 40 pounds (claimed), has the carbon rims, comes with tough and sticky SE tires, and has the fancy one-piece carbon bar/stem of the most expensive builds. It has all of this while carrying a sub-five figure price tag.
Lastly, on the SRAM AXS-equipped bikes (like my review sample), the rear derailleur gets power from the bike's battery via an "extension cord" pack. This pack clips on in place of the standard AXS battery and connects to the bike's wiring harness. If you completely drain the e-bike battery, there is still enough juice left for about 200 shifts. Riders can bring along a spare AXS battery as an extra precaution.
---
Model | Weight in Pounds | Price
Fuel EX-e 9.5 | 43.94 | $6,500
Fuel EX-e 9.7 | 41.99 | $7,600
Fuel EX-e 9.7 P1 Now* | 41.99 | $8,100
Fuel EX-e 9.8 XT | 39.9 | $8,700
Fuel EX-e 9.8 XT P1 Now* | 39.9 | $9,200
Fuel EX-e 9.8 GX AXS | 40.06 | $11,000
Fuel EX-e 9.9 XTR | 38.51 | $13,000
Fuel EX-e 9.9 XX1 AXS | 40.67 | $14,000
* "P1 Now" models have a "premium" finish and are painted and assembled at Trek's headquarters in Waterloo, Wisconsin. The weight and build kit are the same as standard models.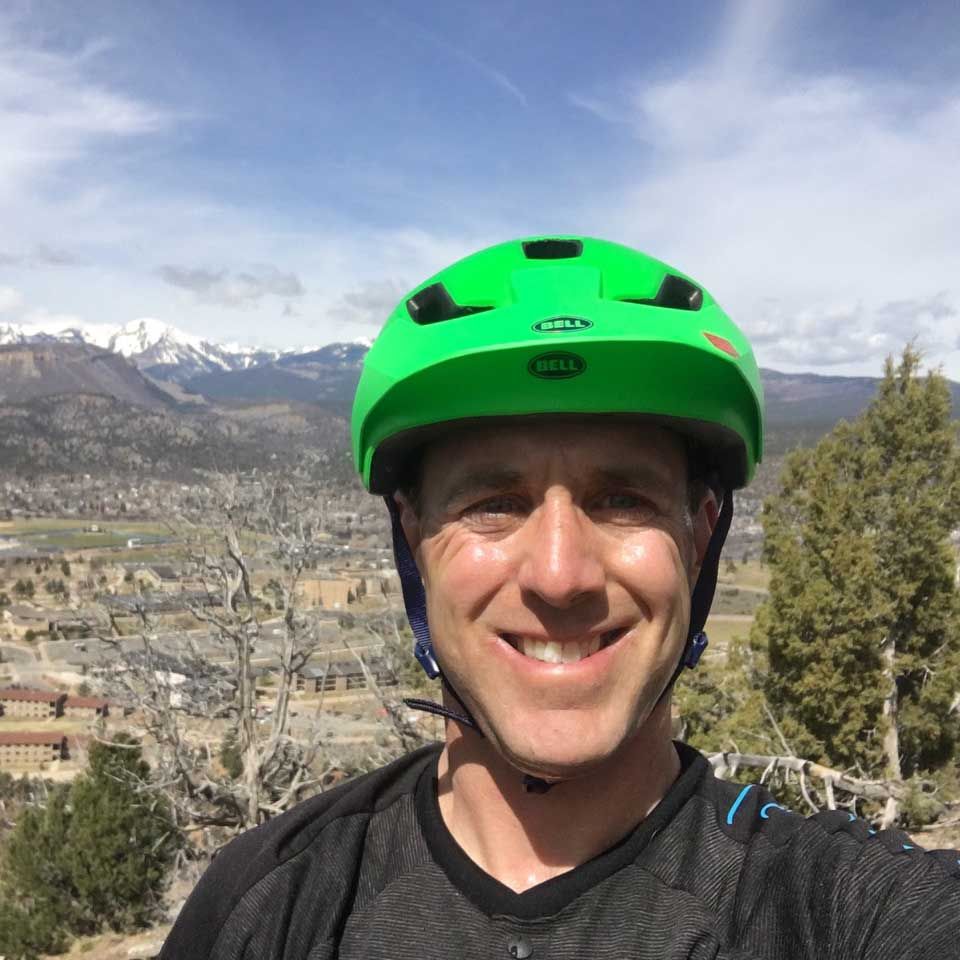 Senior Test Editor, Bicycling
A gear editor for his entire career, Matt's journey to becoming a leading cycling tech journalist started in 1995, and he's been at it ever since; likely riding more cycling equipment than anyone on the planet along the way. Previous to his time with Bicycling, Matt worked in bike shops as a service manager, mechanic, and sales person. Based in Durango, Colorado, he enjoys riding and testing any and all kinds of bikes, so you're just as likely to see him on a road bike dressed in Lycra at a Tuesday night worlds ride as you are to find him dressed in a full face helmet and pads riding a bike park on an enduro bike. He doesn't race often, but he's game for anything; having entered road races, criteriums, trials competitions, dual slalom, downhill races, enduros, stage races, short track, time trials, and gran fondos. Next up on his to-do list: a multi day bikepacking trip, and an e-bike race.