In their first big matchup of the 2023 racing season, Tadej Pogačar got an early leg up on Jonas Vingegaard in a battle of the last two winners of the men's Tour de France.
The decisive moves were made on the last climb in Wednesday's Stage 4 of Paris-Nice. The first attack came from Vingegaard in what he likely hoped was his winning move. But his acceleration was immediately answered by David Gaudu (FDJ), Pogačar (UAE), and the rest of the remaining peloton.
Gaudu then launched an attack of his own and created a sizable gap on the field.
Then Tadej made his move
He attacked and quickly put meter after meter between him and Vingegaard until the yellow and black jersey of the Jumbo-Visma rider had disappeared from our view. Before long, Pogačar was on the race leader's wheel.
The two riders summited the climb together.
Then Tadej made his move. Again.
After the climb, Pogačar was the only rider left with another attack in his legs, it seems, because when he attacked for the last time Gaudu simply didn't have enough left to catch him. In a (non-controversial) photo finish, Pogačar took the Stage 4 win along with the overall lead in Paris-Nice. When all was said and done, Pogačar—taking time bonuses into account—now has a 10-second advantage over second place Gaudu and 44 seconds on Vingegaard.
A classy champion
We all know and love what a seemingly nice guy Pogačar is, and his epic battle with Vinegaard in last year's Tour de France will forever be part of the legend of that race. The two riders clearly respect and admire each other. Pogačar even sought Vingegaard out after he won the stage today to congratulate him on a good race. It most definitely was that.
What does this tell us about how the two Tour de France favorites for this year stand ahead of July? Maybe not much. It's only March 8. But Pogačar's strong early-season form shows that the 2020 and 2021 TdF winner surely wants his yellow jersey back.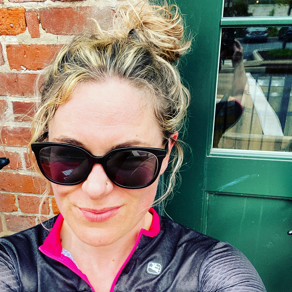 Natascha Grief got her first bike shop job before she was old enough to drink. After a six-year stint as a mechanic, earning a couple pro-mechanic certifications and her USA Cycling Race Mechanics license, she became obsessed with framebuilding and decided she wanted to do that next. After Albert Eistentraut literally shooed her off his doorstep, admonishing that if she pursued framebuilding she will be poor forever, she landed an apprenticeship with framebuilder Brent Steelman in her hometown of Redwood City, CA. After that, she spent several years working for both large and not-so-large cycling brands. Somewhere in there she also became a certified bike fitter. Natascha then became a certified personal trainer and spent nine years honing her skills as a trainer and coach, while also teaching Spin. During the dumpster fire that was the year 2020, she opened a fitness studio and began contributing regularly to Runner's World and Bicycling as a freelance writer. In 2022, she joined the staff of Bicycling as News Editor.