The Takeaway: This Force AXS group combines trickle up and trickle down features with a handful of running changes to create the best performing SRAM AXS road and gravel group yet.
Force now runs Red-style one-piece chainrings with integrated spiders
2x chainrings employ integrated power meters
Spindle based power for 1x cranks
New hood shape from Rival AXS and reprofiled shifter paddles offer more finger clearance
Updated chain and cassette smooth shifts and quiet drivetrain noise
Stiffer front derailleur cage improves front shifting
Stiffer brake calipers with improved pad retraction
Weight: 2992 grams (as tested: 2x group with power meter and 160mm rotors)
Price: $2,763 (as tested: 2x group with power meter)
---
---
The usual playbook for SRAM—and other drivetrain makers—is to introduce a new group with new features and technologies at the high end, and trickle many of those features down to lower-cost groups.

SRAM's altering the playbook somewhat with the launch of the 2023 Force AXS group. All new colors and graphics make it look like a new group, but a peek behind the curtain reveals that it's fundamentally the same Force group with some added trickle-down tech from Red AXS that Force didn't get in the first go-round, some trickle-up details from Rival AXS, and some running changes to SRAM's existing parts.
While the changes don't seem like much, this is a case of the whole being greater than the parts: This is SRAM's best-performing AXS drop bar drivetrain to date.
SRAM Force AXS 2023 parts arrive in some shops today. Bikes equipped with the new parts are already in the pipeline, though predicting when they'll land in shops or online stores is tricky.
---
SRAM Force AXS 2023 — Really new, or mostly BNG?

While SRAM positions Force AXS 2023 with lines like, "More than an update, it's a departure from everything you thought you knew about the equation of Force," they also led off their presentation to us with a slide that declared, "Elevated performance begins with a premium finish."
Naturally, the finish—SRAM calls it "Unicorn Grey" with "Laser Foil" graphic hits and it looks particularly sparkly in the sun—is one of the first things you'll notice about any group. And it is a notable departure from Force's previous battleship gray.
In fairness, SRAM also made significant changes to many parts. And the updates are welcome, but there's also little in the way of new features or technology. SRAM removed some features from the group, so this feels more like a mid-cycle refresh than an all-new drivetrain from SRAM.
Those of you eager to see what next-gen features the brand has up its sleeve—SRAM is often the first to introduce new features and technologies to the drivetrain space—will need to wait for SRAM to launch the next-generation Red AXS.
---
SRAM Force AXS 2023 — What's The Same?
There are no changes to the underpinnings of SRAM's road components: Force is still 12-speed with abundant 1x and 2x options and still uses eTap "shift logic", AXS wireless tech, the same AXS batteries, the same disc brake pads, the same Orbit pulley cage dampers, and the same X-Range gearing philosophy.
Force parts still use XDR cassette mounting, Flat Top chains, DOT brake fluid, and DUB crank axles. And it still pairs with the AXS app so the rider can customize the controls and update the firmware. Also unchanged are the motors and firmware that power the shifting: These are shared with every AXS derailleur.
The above means "new" Force is backward compatible with "old" Force AXS parts, cross-compatible with all other AXS road drivetrain parts, and can be mixed and matched with other parts in SRAM's AXS ecosystem. That compatibility extends to SRAM's worst-kept secret: Its forthcoming mountain bike parts.
Honestly, phew! It often feels like when Shimano, SRAM, or Campy drops a new group, a painful transition appears on the horizon. Replacement and repair parts (and even tools) get hard to find, idling otherwise perfectly functional, if older, parts.
Also unchanged—and we might be burying the lede slightly—is the price. The new Force AXS parts cost the same as the outgoing Force variants.
---
SRAM Force AXS 2023 — What's New?
SRAM Force AXS 2023 does not herald a major new technology or feature. Some of its most significant changes are borrowed from other SRAM groups. But those updates did result in notable weight savings: SRAM claims a 2x group with a power meter is 94 grams lighter, while a 1x group with a power meter is 105 grams lighter.
The Force shift/brake levers now incorporate the hood shape that debuted with Rival AXS. This shape has shorter peaks, more scalloping on the underside, and smaller diameter hoods. SRAM also slightly re-profiled the shift paddle, clipping off a little material from the top and bottom, but also marginally extended its lower edge. The updates are said to improve finger clearance for all hand sizes and reduce the chance of the lever contacting a rider's knuckles when braking heavily.
This hood update also sees the elimination of SRAM's brake contact point adjustment mechanism: According to Dan Stefiuk, SRAM's Road Product Manager, 90 percent of riders surveyed don't use the adjustment. Eliminating it allowed SRAM to make a smaller hood. Reach adjustment is still provided, however.
Also eliminated were ports for SRAM's wired Blip or MultiClic remote shift buttons. However, the group is compatible with SRAM's wireless Blips. In fact, a rider can add up to six auxiliary wireless Blips to one drivetrain.
While crankarm construction is unchanged, coming over from the Red group are chainrings with integrated spiders which mount using SRAM's eight-bolt standard. 2x systems get integrated chainring units in 46/33T, 48/35T, and the previously pro-only 50/37T combinations. And if you want to ride with power, those rings are enhanced with an integrated power meter.
Like Red—these Force rings and power meters are, other than the finish, identical to Red—when one of the rings wears out, you need to replace the whole unit. And, yes, that means the power meter too. Like Red, SRAM offers a core exchange discount when replacing the power meter units. However, because the Force power meter units are much less expensive than Red, SRAM's exchange discount is 10 percent for Force instead of the 50 percent they offer for Red.
And a quick aside to highlight just how much less expensive the Force rings and power meter are than Red. The Force Power Meter Kit (the integrated power meter and chainrings unit) sells for $410; the Red Power Meter Kit is $881. That's for the same part: The only differences are the finish and the logo.
If you have a SRAM crank with an eight-bolt mount and are looking to upgrade to power, it makes approximately zero sense to buy a Red unit. What's also confounding: If you need to replace your Red integrated power meter and chainrings, it is cheaper to outright buy the Force unit than to turn in your worn Red unit and get the 50-percent discount SRAM offers.
For new Force's 1x options, SRAM again eliminates the spider in favor of one-piece, eight-bolt, direct mount chainrings (38, 40, 42, 44, 46, 48, or 50T). For 1x power, SRAM goes away from a spider-based system, instead employing the crank axle unit that debuted with Rival AXS. The important detail to note here is this system only measures left-side power and doubles for an estimate of total power. The spider-based unit on the 2x systems measures left and right power individually.

At the rear derailleur, SRAM simplified its offerings. Now there is one 2x-compatible rear derailleur covering the 10-28T, 10-30T, 10-33T, and 10-36T cassette options. Gone are the short cage rear derailleur and 10-26T cassette.
Meanwhile, at the front derailleur, "Improvements to construction with creases at the tail of the cage and a riveted connection between inner and outer cage improve rigidity and performance," says Stefiuk
Improving the shifting experience is a new nickel chrome finish on the chain and cassette. SRAM claims the finish offers improved longevity, smooths shifting, and reduces running noise.
Not exclusively new to this group, but still noteworthy, are some running changes SRAM made to its parts since Red AXS and Force AXS debuted in 2019. AXS batteries get improved cells and firmware to boost life, meaning riders should get more than SRAM's claimed 1000 km/620-mile range between charges. Another quiet change was Red's and Force's switch from a one-piece disc caliper to a two-piece caliper with fixed hose routing. The two-piece design, says Stefiuk, results in a stiffer caliper and better piston-seal rollback, maximizing pad clearance.
---
SRAM Force AXS 2023 —Wide Gearing and XLPR Parts
Now that the 10-36T cassette and compatible derailleur are part of the main-line Force group, SRAM's Force Wide option boils down to two parts: A crankset with a wider axle and, when run as 2x, a front derailleur. Other than gaining the new graphics, those parts are unchanged. This means the Force Wide 2x 43/30T rings are the only Force chainrings that still mount to a spider.
You can read my full review of Force Wide by following the link above. The TL;DR: A wider axle that positions the chainring(s) further outboard, which, when run as a 2x system, necessitates the similarly adjusted front derailleur. The wider axle moves the chainring(s) and front derailleur (if needed) further outboard, creating more space and room for larger tires.
Besides graphics, the XPLR 1x specific rear derailleur remains unchanged and is still compatible with 10-36T and 10-44T cassettes.
---
SRAM Force AXS 2023 — Bye-Bye Rim Brakes
Though it's hardly a surprise, sadly, there are no rim brake components in this round of Force. That said, it only means there are no shift levers or rim brake calipers with the new graphics. The new Force derailleurs, cranks, chain, and cassette work with the current Force AXS and Red AXS rim brake parts.
Stefiuk, the road product manager, stated that SRAM would "continue to support" the brand's existing rim brake parts for the foreseeable future. But he cautioned that support is predicated on demand. When demand for the rim brake parts goes away, so do the parts. Our best advice: Stock up on spares while you still can.
---
Other SRAM 2023 Updates
SRAM's dropping a few other tasty product nuggets today.
If you love the rainbow/oil slick look, then you'll SRAM's new chain and cassette with rainbow PVD finish is for you. This finish is only offered on the Red chain ($74), and Red 10-28T and 10-33T cassettes ($377).
And also: A four-port charging unit ($120) for AXS batteries, powered by a USB-c connection. SRAM claims this unit fully charges four AXS batteries in 60 minutes, with even shorter charge times if only one or two batteries are in the charger. This charger is heaven-sent for anyone who owns (or services—attn: shop and team mechanics) more than one AXS-equipped bike.
---
SRAM Force AXS 2023 — Weights and Prices
Now for one of my signature Excel tables with weights (on our scale) for SRAM's new Force parts and current retail prices. My test group represents the high end of the group pricing: a 1x group without power starts at $1,842.00.
How does it compare to Ultegra? That deserves a separate story, and I intend to do some long-term back-to-back testing to find out.
On paper—and even according to SRAM's numbers—Force is a bit heavier (the new Force parts significantly close the gap). But Force is a bit cheaper (comparing 2x groups with no power meter). The Force group in 2x with a pro-quality power meter is about $190 more expensive than an Ultegra group without a power meter, which is significant.
Ultegra also doesn't offer nearly the gearing options of Force, or a rear derailleur with a clutch. However, Shimano's shifting and braking performance are the benchmarks. So, pros and cons for each option.
---
SRAM Force AXS 2023 — Ride Impressions
Just ahead of today's launch, I built a Litespeed Ultimate G2 gravel frame (review to come as I spend more time on this USA-made titanium frame) with the new Force and got an initial ride on the new parts. I chose a 10-36T cassette, power meter crank with 33/46T rings, and 160mm rotors front and rear.
As background, most of my personal bikes are equipped with SRAM drivetrains. For my riding needs and preferences—which leans much more towards all road and gravel than it does pavement racing—SRAM's parts suit me better than Shimano or Campagnolo's offerings. So, I am very familiar with the feel of SRAM's components.

And if you're used to riding SRAM AXS like I am, the new Force AXS will feel like home. On balance, the group is a step forward but predominantly one that smooths some of its rougher edges rather than heralding a new level of performance. This isn't a surprise: While there are numerous changes, there are few changes to the underpinnings of the group's shifting and braking technologies, so this group reacts and behaves like existing SRAM AXS drivetrains.
Even so, the refinements and incremental changes pay off. SRAM's AXS shifting performance is smoother, quieter, and slightly faster today than when it launched in 2019. Overall, the feel is much more refined.
I first noticed this when I rode the Rival AXS for the first time, and I said in that review, "I really hope SRAM […] can make their higher-end AXS groups shift like Rival AXS." This new Force AXS shifts a lot like Rival AXS. And that's a good thing. I'd even say that SRAM further polished its shifting performance from Rival AXS; the front shifting especially seems like a step forward for the company.
I'm still not prepared to say SRAM's AXS drivetrains shift fast—SRAM disagrees with me, but I think that Campy and Shimano's electronic drivetrains move the chain from cog-to-cog and ring-to-ring faster than SRAM—but at least AXS doesn't feel slow anymore and that's a great step for the brand. And it eliminated the slow feel without sacrificing the positive and secure shifting performance that is a highlight of SRAM drivetrains.
The brake report is much the same: Familiar with welcome improvements. SRAM's discs have historically performed well and consistently, and that's the case here. Overall brake power is very good. The modulation is excellent and the updated calipers impart a slightly firmer lever feel. And there are fewer chirps, scrapes, and tings when the rotors get hot. But I also still wish for a lighter lever pull and a snappier response. It feels, to me, like there's more friction in SRAM's lever pivot (and more drag in the master cylinder) than its competitors. This results in SRAM's discs having a slightly sluggish and somewhat dull feel at the lever.

The new hoods are certainly a step forward. These hoods are more comfortable to hold, and the improved clearance around the fingers is welcome anytime, especially when wearing cool-weather gloves. The new Force hoods are lower-profile and more appealing, contributing to a sleeker-looking front end.
---
SRAM Force AXS 2023 — Final Thoughts
While SRAM led with Force's updated looks, I'm going to close with it. Black and deep gray are smart color choices for a drivetrain because they work with virtually any bike. SRAM punches up those normally staid colors with a rainbow metal flake that sparkles in the sun, and I'm here for it. However, I'm less enamored with the foil graphic hits—they look like they were designed in a rush and popped out of a label maker bought at Office Depot. I'm sure these graphics are costly, but they look cheap and somewhat faddish rather than imparting timeless elegance. This is all personal taste of course. You can feel to call me an idiot or tell me to faff right off—I'm sure SRAM will.
Colors and graphics aside, Force AXS 2023 is the best SRAM drop bar drivetrain yet. It brings new levels of shifting, braking, and ergonomic refinements to the brand's parts. It may not be the revolution we're used to seeing from a "new" SRAM drivetrain. But it offers many positive steps forward and results in a more refined and pleasurable ride experience.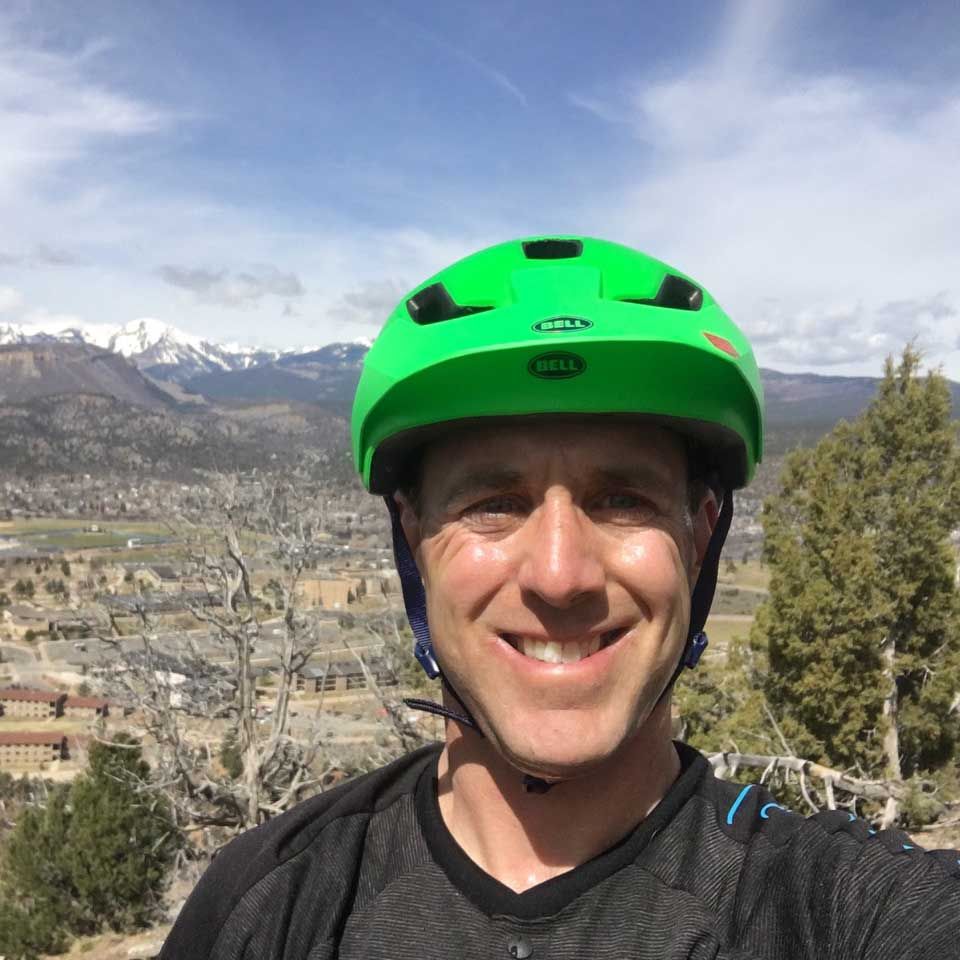 Senior Test Editor, Bicycling
A gear editor for his entire career, Matt's journey to becoming a leading cycling tech journalist started in 1995, and he's been at it ever since; likely riding more cycling equipment than anyone on the planet along the way. Previous to his time with Bicycling, Matt worked in bike shops as a service manager, mechanic, and sales person. Based in Durango, Colorado, he enjoys riding and testing any and all kinds of bikes, so you're just as likely to see him on a road bike dressed in Lycra at a Tuesday night worlds ride as you are to find him dressed in a full face helmet and pads riding a bike park on an enduro bike. He doesn't race often, but he's game for anything; having entered road races, criteriums, trials competitions, dual slalom, downhill races, enduros, stage races, short track, time trials, and gran fondos. Next up on his to-do list: a multi day bikepacking trip, and an e-bike race.