Though many riders might associate Elite more with water bottles and cages, the Italian company is no stranger to the world of indoor training. Its lineup of trainers and accessories ranges from traditional rollers to some of the most advanced smart trainers currently on the market. The new Justo falls into the latter category. And it's a product that Elite hopes will compete with the Wahoo Kickr, the current gold standard for high-end trainers for racing and training.

Over the last few months, I used the Justo for all types of indoor riding—from steady efforts to high-intensity intervals and plenty of Zwift racing. Elite also sent us its Rizer attachment, which simulates gradient changes and enables steering functionality in the virtual world of Zwift.
---
Setting Up the Justo
The Justo comes almost fully assembled from the box. You only need to attach a flywheel cover, cassette (not included), and the correct axle adapters, and you are on your way. This is a little more hands-on than other trainers; the Wahoo Kickr is almost ready to ride out of the box.
The Justo features folding legs and a carry handle that makes moving and storing the trainer a breeze. Changing axle standards is as easy as swapping out little metal adapters and is a painless process to swap between different hub spacing if using multiple bikes on the same trainer. (Just be careful not to lose those adapters.) Elite includes adapters for quick release 130mm to 135mm and 12 x 142 thru-axles with the Justo; other standards can be purchased from Elite. By contrast, a Wahoo Kickr includes an adapter for 12 x 148mm in the box.
Though disappointing that the trainer does not come with a cassette, with so many different drivetrain choices currently available, it doesn't make sense to include a part that might end up being the wrong choice for many owners. I ran the Justo with 11-speed and 12-speed Shimano cassettes on the Shimano-compatible freehub body. When riding an AXS-equipped bike, I used an inexpensive 12-speed 11-34T Shimano-style cassette from Amazon instead of shelling out extra for an XDR freehub body. Elite also offers freehub bodies at an additional charge.
---
Tech Features
Serious Zwift racers rejoice! The Justo features a +/- 1% claimed accuracy rating, which means you will get accurate data (and won't be disqualified from Zwift's top racing league). The Justo simulates grades up to 24%, which is 4% more than the Wahoo Kickr. Elite also added auto-calibration to the Justo, which makes getting accurate readings even more effortless. There is no need to perform a manual spin-down. All of this leads to a more immersive and simple indoor training experience. The ability to get on and ride without fussing with settings is a big plus for me.
The Justo features what Elite dubs Flex Feet. Not too dissimilar to those found on the Wahoo Kickr, the feet add a slight amount of flex when riding. This makes the bike feel slightly more natural under pedaling forces. I wouldn't say it adds a realistic ride feel, but it certainly creates a more comfortable indoor experience. Elite includes a set of feet for fine-tuning the flex based on weight or personal preference.
A Justo feature that anyone using an Apple TV to ride Zwift will appreciate is the ability to connect your heart rate monitor to the trainer and have it function as a bridge. This simplifies the connection process and allows data sent in a single Bluetooth signal from the Justo straight to devices like an Apple TV, which has limited Bluetooth channels.

I couldn't help but notice what appears to be an ethernet port behind the trainer, but as of now, there are no direct connect options available to riders. Still, the port is very much there, and Elite confirms that a direct connect adaptor is coming and should be priced roughly the same as Wahoo's adaptor.
---
Environmental Sustainability
At face value, cycling is an environmentally friendly exercise option, but in reality, there is lots of waste with cycling gear. There is excessive packaging and plastic used to ship bikes and parts. In that regard, it's nice to see companies such as Elite paying attention to this shortcoming.
The Justo utilizes a circular production model where Elite aims to reduce waste by using fewer raw materials to produce the trainer. Elite has claimed for several years that this lowers its carbon footprint when making bottles using fewer plastics. It is nice to see this philosophy carry over to other parts of the business. However, this area can be improved for the Justo, and I would love to see far less plastic used in its packaging.
---
Connecting and Riding
The Justo can use Bluetooth and ANT+ to connect to a laptop or tablet. Whatever you use, the connection process is fast and intuitive. I used an ANT+ dongle on a Macbook to connect to Zwift and had no trouble paring the Justo. I used the Justo on Zwift for roughly three months and did not experience any dropouts. This is great, but it could have a lot to do with where the trainer is set up relative to other devices in the house and my lack of nearby neighbors whose devices might interfere with the trainer.
Once riding, I did not think much about the trainer. The ride felt smooth, the flywheel stayed quiet, and the connection to the bike remained solid. The Justo does a great job reacting to grade changes coming from Zwift, with no jarring changes or delays. The resistance ramps up smoothly but also quickly. I now expect trainers to be much quieter than in years past and not disturb housemates or neighbors. With that said, the Justo is not silent, but the noise coming from the trainer is quiet enough. I did not need to crank up the volume of my music to drown out the sounds coming from the Justo.
If you prefer doing your workouts using ERG mode, you'll be happy to know if you stop pedaling for any reason, the Justo is nice enough to ease off and ramp back up to the target watts instead of just locking up. However, I did notice that when the Justo first wakes up and connects to Zwift, it seemed to be a bit harder to get initially rolling than other trainers I used.
---
Rizer Grade Simulator
I tested the Justo paired with the Rizer, an optional grade simulation attachment that replaces the front wheel. It raises or lowers the front of your bike to simulate the position of riding uphill or downhill. It can handle a 20% uphill grade to a 10% downhill grade, which I found more than enough for indoor training. Unlike the Kickr Climb from Wahoo, the Rizer incorporates Elite's steering feature and has some flex at the front axle that boosts ride feel. The Rizer allows for some comfortable motion at the front of the bike, much like the flex feet add to the rear. In short, the bike no longer feels like you're about to snap it off the trainer during hard efforts.
For many riders, the Rizer will not be an essential accessory, but I've found that it adds another layer to indoor training. Imagine riding a bike path for 2-3 hours on a road bike with no grade changes. Not only will you get bored, but it also feels tiring sitting in one position. Now, think about riding rolling hills and varied terrain. It is much more engaging and gets different muscle groups involved. For $999, that's what the Rizer brings to the indoor space.

The Rizer feels subtle and not jerky when changing grades. During Zwift rides, it smoothly responds to hills and descents. I found it reacts a touch slower than the Climb on quick rollers, but on longer, steadier climbs, I'd chalk it up as a tie. The Rizer is quieter than my Climb, and I only noticed this when swapping back to the Wahoo unit. If mechanical whirring noises bother you, I'd recommend the Rizer.
Steering certainly has a future with indoor riding, but at this point, it feels about as natural as driving a car with arrow keys does in a video game. But, it is useful when positioning yourself in a virtual group, especially in some large-sized group events. The responsiveness isn't sensitive enough to subtly move about the group. But in some scenarios, I found it helpful (like staying centered in a pack during a large group to maximize draft). The downside is as the group dwindles, it becomes harder and harder to stay in a draft without constant input. This replicates the real world, but it can feel a bit much if you're trying to zone out and watch a Netflix show.
At $999, the Rizer is roughly $300 more than the Wahoo Climb. That premium might be worth it if having steering on Zwift is something you're interested in and want to combine with gradient simulation. Otherwise, the Wahoo Climb is more reasonably priced by comparison. My second issue with the Rizer was that the unit came in contact with an out-front computer mount when the grade points extremely downward. This is likely something that affects a small number of people, but something worth noting if you run a very long and low bar and stem setup.
---
Are These for You?
Together, the Justo and Rizer offer one of the most immersive and engaging indoor riding experiences, especially when paired with apps such as Zwift or RGT. The Justo is a worthy competitor to the Wahoo Kickr V6 in every way but one: It lacks built-in WiFi.
Is Wahoo's $100 premium worth it over the Justo? In my opinion, yes. If you are trying to decide between these two trainers, WiFi is probably a feature you will want.
The Rizer brings unique features with the combination of steering and gradient simulation in one unit. While its price will be a factor for many, a Justo combined with a Rizer is still a lot cheaper than a product like a Wahoo Kickr Bike. But riders who only want the gradient simulation or the steering separately from each other could opt for a Wahoo Climb ($700) or an Elite Sterzo ($42) steering plate.
Elite added many new features to the Justo, making it a competitive high-end smart trainer offering. Things like auto-calibration, multi-channel Bluetooth, heart rate, and cadence bridging for Apple TV users combine to bring Elite back into the conversation as a legitimate competitor to Wahoo. Plus, it doesn't hurt that the Justo is $100 bucks cheaper.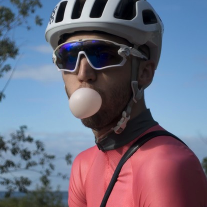 Trevor Raab is the staff photographer for Runner's World and Bicycling, a CAT 1 cyclocross racer, and, occasionally, a product reviewer for the Test Team. He fits the typical "how I got in to bikes" story: his dad introduced him to mountain bikes when he was a kid, then he had a stint as a skateboarder in high school, and since 2011 he's been riding every sort of bike he can find.